Dan is a 25 year old Bartender and Mixologist for the Blythswood Hotel in Glasgow. Originally hailing from Dundee, and known affectionately as 'Dundee Dan' by his mates, Dan moved down to Glasgow originally to study International Business & Hospitality Management at Glasgow Caledonian University. I got together with Dan to find out his hopes, dreams and what makes him tick.
As a valuable and hard-working member of the Blythswood team, Dan expressly links his masculinity as a concept towards occupational success. "In the short term, I fear that I may slip up and end up back at square one again...I fear short term failure. I fear not making the most of my life, getting to a certain age and feeling I've not done everything I wanted to."
With a changing economic climate and societal attachment of masculine norms to occupational and monetary success, Dan's fears seem to echo the long term anxieties of a successful career mirroring the extent of how your individual life enshrines dominant views of manhood.
Like many men in his position, occupational and personal stresses can combine to make drugs and alcohol pose an easy escape. "My main vulnerability is having an addictive personality," he shares. "If used correctly, it can help me succeed in life. However, it poses a lot of issues if alcohol and substances are added into the mix, problems I've done my best to overcome in the past."
For Dan, work has proven to be a good defence against problems and temptations. "I'm proud of getting to this exact point in time in one piece. Overcoming overwhelming challenges and battling demons whilst also finding a passion and learning to fully utilise it"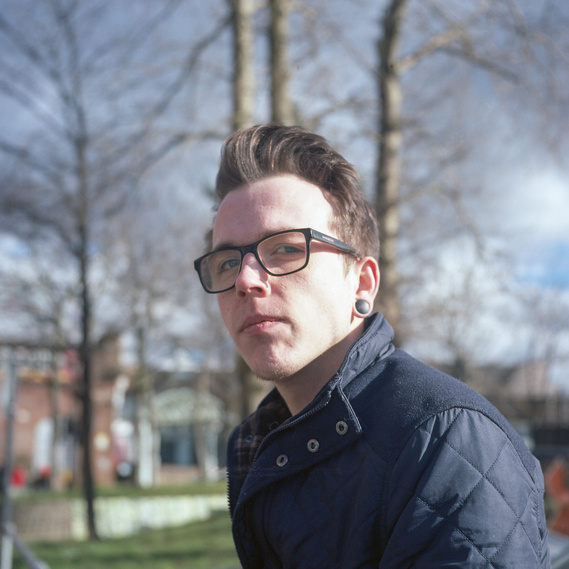 Dan's not worried about either his flaws or his strengths, however, whether related to masculinity or otherwise, and he feels unburdened by the potentially stringent norms of manhood. "I don't really feel I do fit in in this world but I feel thats really the way it should be, to fit in I feel nullifies any individuality and makes you "just like the rest.""

He continues, "I wouldn't say I'm overly masculine, I fit into the lucky category of males who choose not to love cars and football- the ones who can actually express feelings through creative methods."
For Dan, it can lead to doubts as to masculinity and his place in society, however. "I overthink things which does more often than not lead to anxiety and sometimes down points but thats the same as everyone is it not?"
However, dealing with negative pressures and personal problems is just part of the rich tapestry of life for Dan.
"I want to look back one day and say "that was wild."" He continues, "I treat life less like an end destination, more... treat everything I do and everywhere I visit as a stepping stone. It's a better means of gaining an insight into the world I guess. Less time spent too much time focused on our own little bubbles, that's how we never really take the time to leave our comfort zone and experience the other side of life."
The process echos Dan's thoughts on the future:

"I think I'm easy going... I think I'm honest...I think I'm an open person, I guess that's why I'm here.
I'm excited to see the journey I take, the places I see, not to mention the hundreds of people I'll meet. I guess it's quite exciting to think about who you'll be in 10 years time but thats just wishing your life away."

Best of luck, Dan.
Veneer' is an ongoing photo-project seeking to uncover and exhibit the vulnerabilities, fears and hopes that can often be concealed and shrouded by dominant paradigms of masculinity.
By encouraging self-expression, 'Veneer' attempts to achieve nothing less than the eradication of toxic forms of masculinity.
Photography/Words by Liam Harrison
Copyright © All rights reserved.